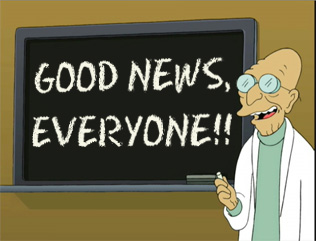 I'm going to be published in GAMES Magazine!
Yep, assuming they don't go under (which I highly doubt, considering they're the most popular/only variety puzzle magazine out there that accepts outside contributions), GAMES is going to publish three puzzles I made using my original format, "
Squeezed in the Middle
"! To celebrate, here's another "Squeezed in the Middle" for you guys to solve!
For this puzzle, you're going to sandwich together words (entered in the white rectangles) by surrounding it with a letter on each side, one at the beginning and one at the end, making a new word in the process. Once you're done, the extra letters you've added in the "crust" (the brown squares) will spell out a two-word phrase. In the example above, the words URN, RAT, and OVER become
B
URN
T
,
I
RAT
E
, and
G
OVER
N
, and the letters in the brown squares, reading down, spell out
BIG TEN
. However, to make things trickier, the "Wholes" will be in no particular order, so it's up to you to figure out which one of the "Centers" it matches up with!
Once you've filled out everything, the letters in the brown squares, reading down, will spell out this week's FINAL ANSWER: the name of a classic puzzle video game.
CENTERS
1) "_____ to the Night" (Eve 6 song)
2) Defunct animation studio that did
Inspector Gadget
and
Captain Planet
3) Partner of ready and willing
4) Snape's stick
5) Giant Japanese ogre-like monster
6) Wear a rut in the rug, say
WHOLES
* Actress Russell who played Flint "Sandman" Marko's wife
* Don't confuse the Wii U GamePad with this mobile computer!
* Its capital is Kigali
* King's proclamation
* Sissy who won an Oscar playing a
Coal Miner's Daughter
* Type of Greek column with volutes
Once you think you know what the FINAL ANSWER is, send it to either
redhead64@chartermi.net
(the main email for my home computer) or
itsredhead64@gmail.com
(the main email for my tablet and whenever I'm not at home) and I'll put your name on a solvers list once I post the answers in about two weeks. You can also use those email addresses to give me some comments and feedback (or get a hint from me in exchange for a "hint star", more details for that are on the sidebar to the right) or send me the answer to
last week's puzzle
, if you haven't already figured it out (apparently, it's a difficult one, but at the same time, 8 people have already solved it, so...). If you have a printer and want to solve this puzzle on paper, just head below the break for a version you can print out!